> pages dédiées en PDF

Un clathrate, du grec klathron qui signifie fermeture, est un composé chimique constitué d'un "complexe d'inclusion" formé d'une ou plusieurs molécules d'eau (liées entre elles par des liaisons hydrogène) dites "molécules-hôtes" qui emprisonnent une autre molécule de gaz (dite "molécules invitées") dans une sorte de cage moléculaire


L'hydrate de méthane, la glace qui s'enflamme est le clathrate le plus connu du public. Il est connu comme source de méthane, puissant gaz à effet de serre, pour ses propriétés étonnantes.

Lors de la catastrophe de Deepwater Horizon, c'est la formation de clathrate dans le matériel disposé au-dessus de la tête de puits qui a empêché son fonctionnement


Clathrate hydrates (or gas clathrates, gas hydrates, clathrates, hydrates, etc.) are crystalline water-based solids physically resembling ice, in which small non-polar molecules (typically gases) or polar molecules with large hydrophobic moieties are trapped inside "cages" of hydrogen bonded water molecules. In other words, clathrate hydrates are clathrate compounds in which the host molecule is water and the guest molecule is typically a gas or liquid. Without the support of the trapped molecules, the lattice structure of hydrate clathrates would collapse into conventional ice crystal structure or liquid water. Most low molecular weight gases (including O2, H2, N2, CO2, CH4, H2S, Ar, Kr, and Xe), as well as some higher hydrocarbons and freons will form hydrates at suitable temperatures and pressures. Clathrate hydrates are not chemical compounds as the sequestered molecules are never bonded to the lattice. The formation and decomposition of clathrate hydrates are first order phase transitions, not chemical reactions. Their detailed formation and decomposition mechanisms on a molecular level are still not well understood.[1][2] Clathrate hydrates were first documented in 1810 by Sir Humphry Davy.[3]

Clathrates have been found to occur naturally in large quantities. Around 6.4 trillion (i.e. 6.4x1012) tonnes of methane is trapped in deposits of methane clathrate on the deep ocean floor.[4] Such deposits can be found on the Norwegian continental shelf in the northern headwall flank of the Storegga Slide. Clathrates can also exist as permafrost, as at the Mallik gas hydrate field in the Mackenzie Delta of northwestern Canadian Arctic. These natural gas hydrates are seen as a potentially vast energy resource, but an economical extraction method has so far proven elusive. Hydrocarbon clathrates cause problems for the petroleum industry, because they can form inside gas pipelines often resulting in plug formation. Deep sea deposition of carbon dioxide clathrate has been proposed as a method to remove this greenhouse gas from the atmosphere and control climate change.

Clathrates are suspected to occur in large quantities on some outer planets, moons and trans-Neptunian objects, binding gas at fairly high temperatures.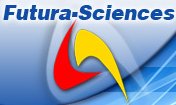 > clathrate

Complexe de molécules formant une cage enfermant une molécule hôte (des clathrates sans molécule hôte ont toutefois été synthétisés). Le mot vient du grec klathron, signifiant clos.

Le clathrate le plus connu est l'hydrate de méthane, ce dernier étant la molécule hôte. Cette « glace qui brûle » (quand elle dégage son méthane inflammable) n'est stable qu'à pression élevée. On en trouve des stocks profondément enfouis dans le sous-sol, notamment sous le fond des océans.